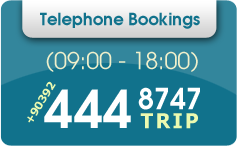 All Free!
Road Map of North Cyprus
Ercan Airport delivery / pick up
24/7 Roadside Service
Child seats and booster seats
Second driver
Unlimited mileage
No Commission
Delivery to all over N.Cyprus
Change of car in case of mechanical breakdown
Learn step by step how rent a car
How to make car rental reservation?
Reservation form on our website or by telephoning get right rental car reservations. After filling the form back to you within a short time of your reservation confirmation will be made​​. If by phone, 7/24 directly call our call center, the model of the car you want, place and time of delivery and giving your personal information to perform a book.
How do I make a booking you will receive tool?
Information that you provide us in advance, you are asked where you want to rent your vehicle you by our staff, you are hours.
If you want to take delivery of your vehicle is in the Ercan Airport, Trip Rent A Car you are named on a competent team were welcomed with welcome sign and deliver you the rental car waiting in the parking lot.
How do you return your rental vehicle?
End date and time of the rental agreement, the agent can return to where you previously specified. Leased within the borders of the Turkish Republic of Northern Cyprus tool approved by Trip Rent A Car can be returned to any place. If the car is at the end of the lease if you want to return Ercan Airport on the subject that you deliver the vehicle Please ask our staff or call the 24-hour call center.
How to receive your invoice and receipt?
Trip Rent A Car, a competent team deliver the vehicle to you immediately after you have paid your bill and receipt, and you can hire people who deliver the vehicle.