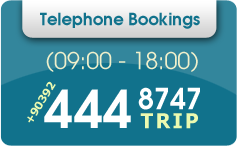 All Free!
Road Map of North Cyprus
Ercan Airport delivery / pick up
24/7 Roadside Service
Child seats and booster seats
Second driver
Unlimited mileage
No Commission
Delivery to all over N.Cyprus
Change of car in case of mechanical breakdown
When comparing with the most Western European countries, the cost of living in Northern Cyprus is still remain much lower. The main costs are electricity, water, council tax and petrol which have considerably risen due to the weak sterling. There are not so much producing industry in the country. Local products that are produced in North Cyprus or products imported from Turkey are generally cheaper than their counterparts. Local produce such as fruit vegetables and meat are of a high quality and great value and are widely available throughout North Cyprus. Specially alcoholic drinks has a very reasonable price. However, most goods imported from Europe tend to be higher in price than they are in their country of origin. In supermarkets you will find an array of international branded foods. The Mediterranean diet is considered to be a really healthy in comparison to European, you can try it during North Cyprus holidays.
The rents are higher in major towns as there are universities in the main cities and there are demand on these houses. The prices of properties are start to increase from 2003 as the borders are opened (with passport) between north Cyprus and south Cyprus. Property prices have also increased exponentially in the past few years as the foreigners are very much attracted to estates in Northern Cyprus.