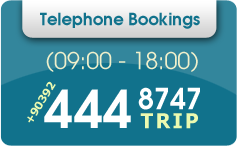 All Free!
Road Map of North Cyprus
Ercan Airport delivery / pick up
24/7 Roadside Service
Child seats and booster seats
Second driver
Unlimited mileage
No Commission
Delivery to all over N.Cyprus
Change of car in case of mechanical breakdown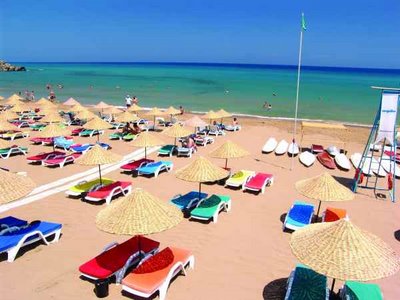 Cyprus is a paradise island of incomparable natural beauty and full of unique historical treasures. Those who have visited North Cyprus is going to remember an island of golden beaches, brilliant weather, mountain forests, ancient castles and sun-bleached villages. But most memorable ones are 350 days of sunshine, beautiful scenery, colourful spring wild flowers, sparkling blue sea, historical sites, crusader castles, warm and friendly people, delicious Mediterranean cuisine, low crime rate, this country is a must for the discerning traveler. Whatever your interest there is always something here for you.
The local Turkish Cypriot is a talented, creative person and this is reflected by the many exhibitions of art, handicrafts, concerts and musical recitals throughout the year, many of them are held in the magical surroundings of Kyrenia Castle, the ancient amphitheatre of Salamis or Bellapais Monastery, these north cyprus activities are often free.
The winters are very short and starts at he middle of December, but still it is sunny by day and only a bit cooler once the sun goes down, a perfect time for walkers and for those interested in escaping the bitter climate of Western Europe. This espaciality of climate is the main reason for those who wants to travel in winter season. Middle of February is welcome of a long spring season which lasts until the beginning of May. At this time the most beautiful wild flowers give a blaze of colour over the mountainsides, along the footpaths and roadsides, wild orchids hide in the undergrowth. By mid May temperatures start to rise and the golden beaches call the visitor who likes to relax and soak up guaranteed sunshine. Water sports are most popular in the summer months of June to the end of September although scuba diving is an all year round activity.
October and November are perfect months for the serious walker with so many mountain trails and unspoilt areas to discover. The temperature is around 20 degrees celcius to help travellers wishing to have a happy, sunny, hassle free. Christmas can enjoy as much or as little of the Christmas spirit as they choose. Christmas celebration generally takes place at different places especially in restaurants and hotels.
There is much of historical interests to reflect nine thousand years of history. Gothic churches rub shoulders with crusader castles, and ruined temples with British Colonial architecture in a fascinating blend of styles. The all-pervading sense of the past adds to the enchantment of the present to make an unforgettable holiday in North Cyprus.
Location
Geography of North Cyprus
Cyprus is the 3 rd largest island in the Mediterranean after Sicily and Sardinia. It is located between 3 continents; Asia, Africa and Europe. Cyprus is just 40 miles from the South of Turkey, 60 miles from Syria and 250miles from Egypt. Cyprus covers a total area of about 1357 square miles and with 240 miles of coastline.
Since the Cyprus dispute in 1974, Cyprus divided into North & South with Turkish Cypriots on the North and Greek Cypriots on the South. The Green Line (border) runs through Nicosia (Lefkoşa), the capital of both South and North Cyprus, making Nicosia a divided capital, separating the North from the South. At present, there are 5 border crossings, offering 24 hour unrestricted access for EU citizens to pass across.
Northern Cyprus covers just about 35% of the whole island. The highest point in North Cyprus is the Mount Selvili in the Kyrenia Five Fingers mountain range and which rises up to 3357ft above sea level. Over 300,000 people live North of Cyprus and are equally distributed between the cities or towns and the countryside. Over 50,000 people live in Nicosia, almost 40,000 live in Famagusta, and 35,000 in the Kyrenia.
North Cyprus beaches are cleaner and safer than most others in the Mediterranean region, If you are a sea lover, then water temperatures of about 24 degrees in summer would be hard to resist! North Cyprus hotels make sure that you relax during your stay, with beach service for food and drink if you want it. Northern Cyprus beaches are just the place to try out water sports, such as water skiing, windsurfing and scuba diving.
Northern Cyprus has its own air conditioning system, the Kyrenia, or Five Finger mountains. This narrow range runs parallel with the coast for over 120km. In the middle part of Northern Cyprus is the Mesaoria Plain, the breadbasket of Cyprus, filled with fields of oats, barley and wheat.
North Cyprus has been a major trading pot since ancient times and many of those who came here to trade have stayed on. The Romans came from the west, the Phoenicians from the east, and the Venetians were so impressed and they built the major castles in Northern Cyprus.
Discover the geography and amazing coastline of North Cyprus with car hire from Trip Rent A Car.