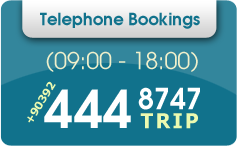 All Free!
Road Map of North Cyprus
Ercan Airport delivery / pick up
24/7 Roadside Service
Child seats and booster seats
Second driver
Unlimited mileage
No Commission
Delivery to all over N.Cyprus
Change of car in case of mechanical breakdown
Average air temperatures
| | | | | | | | | | | | |
| --- | --- | --- | --- | --- | --- | --- | --- | --- | --- | --- | --- |
| Jan | Feb | Mar | April | May | June | July | Aug | Sept | Oct | Nov | Dec |
| 15c | 18c | 19c | 22c | 26c | 30c | 33c | 32c | 29c | 27c | 23c | 18c |
| 60f | 65f | 66f | 72f | 79f | 88f | 93f | 91f | 86f | 81f | 73f | 65f |
North Cyprus due to the hot and dry weather, especially in a year-round holiday destination.
Although known as the winter months of December and January, you can still expect to see the sun and the day should be still warm. Although still a heavy coat goes down and goes to you, and then in the evenings and nights are colder winter clothing will be required. You see some rain in January and February, but still sunny and the country will be the day to walk around and is suitable for driving. Might
February and March, mostly sunny days, cool evenings and nights with some rain likely and will be similar to January. Temperatures begin to rise again so that the spring season, however, the beginning of March. Mild winter clothing is recommended.
In April and May, the temperature will be warm but comfortable. Again, cool down in the evening, but still a nice hot.
Is warmer than the temperature until June, and certainly do not have any winter clothes. In the evening will be warmer now, and start to eat dinner outside. July, August and September can be very hot and the humidity is high, then it may be hot (sometimes, especially in the Kyrenia area is located). Spend the day near a swimming pool or in the sea is definitely recommended. They get the sea breeze in the evening so it will be hot, so that the people sitting where the air-conditioning, fans, or you will find at the sea shore.
October and November, depending on where you spend a day in a day, but still warm. Rent a good time wandering around the year.
If you are flexible when you are on vacation, it's time to go when you want to do while you are there it is recommended to choose. If you want to sit during the day sunbathing and swimming pool or the sea, the summer months then you will be fine for you. Then you go out and see the sights in a day if you want to go before or after the date of July - mid September is recommended. If you are in a place or near a swimming pool and children and school holidays then limited, if you are traveling, the sea is definitely recommended.
March, April and May, and June of Spring Summer - September in Cyprus in October season Autumn Winter is from November.