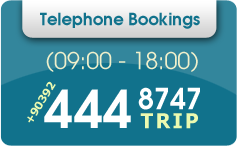 All Free!
Road Map of North Cyprus
Ercan Airport delivery / pick up
24/7 Roadside Service
Child seats and booster seats
Second driver
Unlimited mileage
No Commission
Delivery to all over N.Cyprus
Change of car in case of mechanical breakdown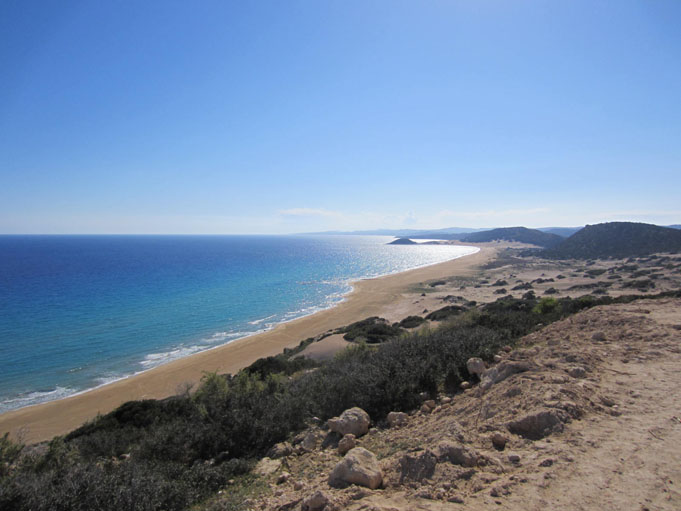 To the north east of North Cyprus lies the 'Panhandle', or Karpas Peninsula. Alternatively spelled Dipkarpaz in Turkish, the region stretches from near Famagusta to the northern part of Cyprus. The Karpas covers a substantial part of the island and extends to 80 kilometres in length and up to 20 in width. The TRNC government have declared that only certain designated areas can be used for development and that the majority should stay as nation park. It is an area of outstanding natural beauty dominated by the Five Finger Mountain Range with beautiful flora and fauna, fantastic beaches and of course our wild donkeys.
One of the most unspoiled places anywhere in the whole of the Mediterranean region, the Karpas is home to an outstanding variety of wildlife and its northern and eastern shores have some of the most beautiful and deserted beaches in North Cyprus - in fact in the whole of the island. The beaches are some of the most beautiful in the world, sweeping curves of golden sand with hardly a soul to be seen. Golden Sands Beach is very popular in Karpaz Peninsula with its long and sandy beach.

The Karpas region is rich in subterranean water reservoirs, so crops including fruit, olives and tobacco are grown in abundance, although in many of the small villages dotted around the region a tractor is still a novelty and many jobs still rely on traditional horse-drawn tools. The other main source of income for the region now is fishing, with the villages of Bogaz and Kumyali being the main centres for fishing in the Karpas..

Northern Cyprus' Karpas region is almost totally free from any concentration of industry and people, and is one of the least polluted regions in the Mediterranean. With pine, cypress and maquis trees covered hills that reach an altitude of about 1,000 metres, the Karpas is also North Cyprus' nature reserve. Escaping the last ice age, the island of Cyprus has managed to retain a substantial amount of biological diversity and the Karpas is home to much of this.