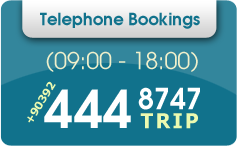 All Free!
Road Map of North Cyprus
Ercan Airport delivery / pick up
24/7 Roadside Service
Child seats and booster seats
Second driver
Unlimited mileage
No Commission
Delivery to all over N.Cyprus
Change of car in case of mechanical breakdown
CAR HIRE
Minimum car rental period is 3 days, with unlimited mileage. Our rental cars can only be driven in North Cyprus borders due to government rules and regulations. Road map of North Cyprus will be supplied at the time of delivery.
PAYMENT
Payment should be made at the time of delivery. Payment can be made in any curreny. We accept all credit cards. Mail order system is also available for those customers who willing to pay before arrive.
PETROL
Petrol is not refundable. We can deliver the car with full tank of petrol and add the cost to the total price or you can leave the tank as you find it.
ERCAN AIRPORT RENTALS
There is no extra charge for North Cyprus Ercan Airport car rental. In North CyprusrRent a car services do not have offices at Ercan Airport. We will deliver the cars on request. Please make sure that you gave us correct flight time and date.
CONDITION OF VEHICLE
The hired car must be returned, in the same condition as when rented.
C.D.W (COLLUSION DAMAGE WAIWER)
If the renter accepts to purchase the policy for CDW, the rented car will be covered by any loss or damage. CDW is not valid if,
The renter found in the effect of alcohol,
The renter violates the speed limits,
The renter do not call police to keep an accident report, in case of an accident. In this case, Trip Rent A Car Ltd should be informed immediately.
The renter allows to other party to drive the hired car that his/her name is not written on the rental agreement.
The renter do not obey the traffic rules in general.
DRIVER AGE AND DRIVING LICENSE
Driver should be at least 25 years old. All national and international driving licenses are accepted as they are valid.
RHD (Right Hand Drive)
All our cars are right hand drive and driving is on the left.
TRAFFIC FINES
All traffic fines incurred during the rental period will be at renters responsibility.
RATES INCLUDE
Full 24 hours
Free additional driver
Free Ercan airport delivery and collection
Unlimited mileage
Oil and greasing
24/7 roadside assistance
Baby seat or booster seat.
Cyprus Map
Car wash during the rental period.
RENTAL REFUNDS
If the hired car should be returned before the agreed date and time, the renter does not have right to ask for refund for remaining days.
EXTENSION OF RENTAL
If the renter wish to extend the days of rental car, Trip Rent A Car customer service should be informed at least 24 hours before the ending the date. Otherwise extension may not be acceptable.
CANCELLATIONS AND AMENDMENTS
Cancellations and amendments must always be made directly to Trip Rent A Car.. Amendments to bookings are free of charge.No extra charge for cancellations.