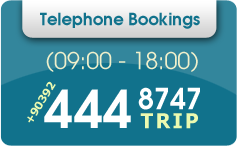 All Free!
Road Map of North Cyprus
Ercan Airport delivery / pick up
24/7 Roadside Service
Child seats and booster seats
Second driver
Unlimited mileage
No Commission
Delivery to all over N.Cyprus
Change of car in case of mechanical breakdown
Kuzey Kıbrıs ekonomisi daha çok küçük tarım ve hafif imalat sektörleri ile birlikte, kamu sektörü, ticaret, turizm ve eğitim de dahil olmak üzere turizm hizmet sektöründen oluşmaktadır. Nisan 2003'te Kıbrıs adasının iki kesimi arasındaki seyahat kısıtlamalarının kaldırılması, iki halkın da karşılıklı serbest dolaşımını (yaklaşık yedi milyon geçiş güncel) sağladı. Sınır kapılarının karşılıklı açılması, en çok inşaat sektöründe gelişme sağladı, birçok yabancı turist adanın kuzeyinden taşınmaz satın aldı. Taşınmaz mal alan kişiler yılda 2-3 kez adayı ziyaret etmeye başladı. Bu süreç de Kuzey Kıbrıs ekonomisine olumlu etki yaptı.
Tarım sektöründe ise ana ürünler narenciye, üzüm ve üzüm ürünleri, patates ve diğer sebzeler, Kuzey Kıbrıs ekonomisinde önemli bir rol oynar. Kuzey Kıbrıs'ta Turizm ekonominin can damarıdır. İnşaat sektörünün gelişmesinde Turizm'in de büyük payı vardır. KKTC devleti de Turizm sektörünün daha da gelişmesi için gerekli olan adımları atmaktadır.  Turizm sayesinde ülkeye yabancı para giriyor ve özellikle de yüksek sezonda, turizm sektörünün Kuzey Kıbrıs ekonomisine çok yüksek bir etkiye sahiptir. Kuzey Kıbrıs'ın üretip ihraç ettiği çok fazla ürün yoktur.
Kuzey Kıbrıs'ta üniversiteler ülkenin gelişmekte olan bir başka sektördür. Hatta bazen Kıbrıs'a "eğitim adası" da denmektedir. KKTC'de 6 üniversitede öğrenim gören yaklaşık 20.000 - 25.000 öğrenci vardır. Öğrencilerin çoğunluğu anavatan Türkiye'den ve diğer Avrupa ülkelerinden gelir. Bu öğrencilerin de özellikle bulunduğu şehirlere ve dolayısı ile de Kuzey Kıbrıs Türk Cumhuriyeti ekonomisine çok büyük etkisinin olduğu bilinmektedir.