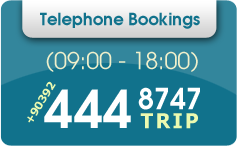 All Free!
Road Map of North Cyprus
Ercan Airport delivery / pick up
24/7 Roadside Service
Child seats and booster seats
Second driver
Unlimited mileage
No Commission
Delivery to all over N.Cyprus
Change of car in case of mechanical breakdown
There are many reasons to choose us!
Comfort and Quality ...
2011-2012 model vehicles offer a combination of tranquility and comfort. Many rental car model, you must also have a choice of. In addition, work focused on 100% customer satisfaction.
7/24 uninterrupted car rental service ...
Cyprus car rental company serving the industry, providing car rental services anywhere across the island. Ercan airport car completely free of charge. Only a phone call away from you. In addition, by using the online reservation system you can book 7 days, 24 hours ..
Reliability ...
Trip Rent A Car car rental sector, the biggest return on our 12 years you have been pleased to have received from customers. However, the potential consists of many repeat customers. An increasing number of those who recommend us to take service from us.
Cyprus rent a car at affordable prices in the industry ...
We have the best prices in Cyprus car rental is mentioned! Car rental price questions before us. Most new vehicles offer the most affordable and all-inclusive prices. All vehicles are full kasko'dur.
Car rental service across the island ...
Car hire in Kyrenia us to the central office and car wash services to our customers and providing unpaid care next to the branch office in order to give more serious and fast Magosa'daki office with a car rental service are also close to you. In addition, we offer Ercan airport car rental service interruption.