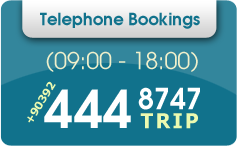 All Free!
Road Map of North Cyprus
Ercan Airport delivery / pick up
24/7 Roadside Service
Child seats and booster seats
Second driver
Unlimited mileage
No Commission
Delivery to all over N.Cyprus
Change of car in case of mechanical breakdown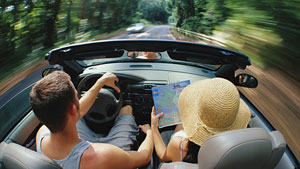 Kyrenia City is the town that attracts most tourists with its famous Harbour, variety of accommodation choices and beauty beaches. Kyrenia rent a car company, Trip Rent A Car Ltd has a main office in Kyrenia North Cyprus, city center. We have service to all hotels around Kyrenia and we also deliver the cars to Esentepe and Lapta region free of charge. Kyrenia is a beautiful town on the northern coast of Cyprus, which is also means "Girne" in Turkish. Kyrenia has lots of great beaches and historic buildings that you should see and with Kyrenia's sights like Kryenia castle, Bellapais, Escape Beach and the Old Harbour.
Advantages of Hiring a Car in Kyrenia
There are many activities you can enjoy in Kyrenia, so no matter what kind of activities you are looking for, you can be sure that Kyrenia has something for you, whether it's Golf, Football, Sailing, Canoeing, Scuba Diving, Horse Riding or Paragliding. Renting a car in Kyrenia, is the most economic way to visit all the attractions and enjoy the activities of the Kyrenia City. You can visit Kyrenia harbour, Kyrenia Castle and drive along the beach and go to premier fish restaurants, with car hire in Kyrenia North Cyprus. Trip Rent a Car offers free delivery and collection of Kyrenia rent a car.
Information About Kyrenia City
Originally a small fishing village Kyrenia was founded in the 10th century BC and has developed and expanded into a beautiful and bustling harbour town - a perfect location for the first time traveller or regular visitor to North Cyprus. The horseshoe harbour with its bars, restaurants and colourful yachts dominates the town and is the heart of Kyrenia for both tourists and local alike.
The streets of Kyrenia are full of shops selling jewellery, wooden crafts, designer clothes as well as souvenirs to remind of your holiday in North Cyprus. A visit to the 7th century Byzantine Kyrenia Castle is a must as well as one to the world famous shipwreck museum located in the castle grounds where the oldest ever shipwreck to be discovered is on display.
A short distance from Kyrenia is beautiful monastery village of Bellapais with its fantastic panoramic views and the spectacular ruins of the 11th century Gothic Abbey where in the summer months an impressive classical music festival is held. Do not miss the bird watch view Kyrenia from here.
Named after a saint who escaped from Jeruslaem after the Arab conquests, St Hilarion Castle, which is a short distance from Kyrenia, offers the most spectacular views of both the mediterranean and the surrounding countryside. All the Kyrenia town centre attractions are easily accessible by foot and all other areas by taxi, dolmush (local minbus system) or by car rental.
Places to visit in Kyrenia
• Anthipanitis Church
• Bellapais Monastery
• Buffavento Castle
• Folk Arts Museum
• Hz. Omer Tomb
• Icon Museum
• Karmi Necropolis
• Kirsokava
• Kyrenia Castle
• Kyrenia Harbour
• Lambousa
• Lapta (Lapithos)
• Shipwreck Museum
• Sourpmagar Monastery
• St. Hilarion Castle