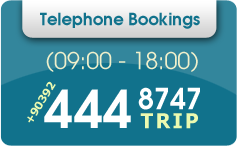 All Free!
Road Map of North Cyprus
Ercan Airport delivery / pick up
24/7 Roadside Service
Child seats and booster seats
Second driver
Unlimited mileage
No Commission
Delivery to all over N.Cyprus
Change of car in case of mechanical breakdown
On the sensitivity of our visitors privacy is important to us. Trip Rent A Car Ltd Privacy Policy information on this page is located.
Information We Collect:
Booking information of importance to the accuracy of the contact you need to be confirmed and recorded properly receive this information. Information on the internet by someone else, not to follow the Secure Socket Layer (SSL) encryption technology we use is called. By our company in accordance with our privacy policy and protection of personal information in the highest degree held and used for other purposes. Information collected by our site:
- IP address
- Browser Features
- Date of visit
- Visited pages
- Number of visits
- The pages you visit, etc. information, programs, and information for the security of our site is automatically collected by.
3 This information is strictly parties shared. This information is automatically sent by us by your browser.
Our company terms and conditions and privacy policy on use of the site reserves the right to make changes from time to time.
Trip Rent A Car Ltd. Information Protection Policy
As a company, our customers, name, phone number, age, and would like to e-mail address. This information when booking the rental car, there is a problem with your requests, contact you in passing or sending you confirmation of your reservation by e-mail is important to help us. Personal information can only be acquired through this site that is used within the scope of a reservation made for the vehicle.
Trip Rent A Car Ltd, through forms on this site with the desired name, phone number, age and e-mail address as well as information to third parties sell, rent or in any way kullandırmayacağını acceptance, and warrants.
Information Security
Reservations of the personal information of our company, absolutely not transferred to third parties.
Terms of use
Trip Rent a Car, the information found on the site and reserves the right to change prices without notice.
Reservations made through our web site does not constitute a contract.
Copyright
Triprentacar.com.tr site including code and software, all of the content of the site, text, articles, images, documents, photographs and images, triprentacar.com.tr of any material without written permission be copied, modified, reproduced, republished, , installed on another computer and distributed.
Privacy and online booking call at 0533 866 6060 or [email protected] about all kinds of support and information can be found at.